Cannabidiol (CBD) has exploded in popularity in recent years and for good cause. Its health benefits are just beginning to be discovered and used for many common ailments. CBD is one of more than 100 chemical compounds known as cannabinoids found in hemp and cannabis plants. Unlike its sibling, tetrahydrocannabinol (THC) – the cannabinoid found in cannabis that causes the sensation of getting high – CBD is not psychoactive.
One of most promising brands of CBD oil is HempFusion, a US-based CBD company that manufactures, distributes and sells whole food hemp extract products at more than 3,900 retail locations. HempFusion's product line is predicated on the health benefits of its proprietary Whole Food Hemp Complex derived from full-spectrum nutritional hemp.
Rather than isolated or spiked CBD, HempFusion uses a unique CO2 extraction process called Hemp One-Pass Extraction that protects vital nutrients during extraction. The name HempFusion essentially means that the company takes CBD oil from hemp and infuses it together with other botanicals and important nutrients to optimize formulations.
Twist CBD Extract
HempFusion's premium Twist products are available in three delicious flavors: Mango Peach, Citrus Ginger, and Key Lime. Twist contains dozens of powerful nutrients including cannabinoids, terpenes like ß-Caryophillene, and Omegas 3, 6 and 9's.
Mango Peach and Key Lime contain 2,850mg of fish oil concentrate per serving, delivering 1000mg of Omega 3 in each serving. Citrus Ginger has no fish oil, but delivers important DHA Omega 3 from a vegan source and includes powerful turmeric extract and organic ginger.
All three Twist flavors contain 5mg of CBD and 5 mg ß-Caryophyllene and other terpenes per serving, as well as 15 IU of Vitamin E.
The 8-ounce Twist product line retails for $39.99 and is available both online and in retail locations across the United States.
HempFusion topical cream/balm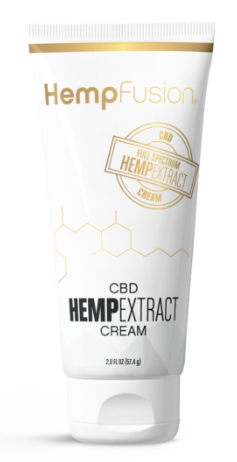 If you're looking for a topical CBD oil, HempFusion's terpene-infused, full-spectrum CBD topicals feature plant-based terpenes infused with HempFusion's unique full-spectrum hemp CBD extract that can be applied directly to the skin for quick and easy support.
Currently available in a Hemp Extract CBD Balm and Hemp Extract CBD Cream, HempFusion's topicals offer soothing support that works by interacting with the endocannabinoid system (ECS). HempFusion's nutrient-dense topical products are crafted with high-quality whole hemp nutrients that go beyond CBD alone. For instance, HempFusion topicals feature plant-based terpenes like ß-caryophyllene, and other key ingredients for topical support, like soothing menthol from mint, as well as MSM and magnesium oil. The Hemp Extract CBD Balm and Hemp Extract CBD Cream retail for $29.99 and $27.99, respectively.
I've been extremely impressed with HempFusion Twist and topical creams. For more information, visit www.hempfusion.com