The 17″ Party Pan is simply a "must have!"
So, this one took a while to get around to due to having to set up gatherings to truly test the Cookware. Let me start with the most used of the 4 pans I was able to review.
The #10 Skillet. This pan might as well have built a mailbox on my stove top because it never saw the cupboard. Not once! It is such a versatile pan and got used darn near every day of the last two months. The polished finish on the inside of this pan made it so easy to literally just wipe down and it was ready to go again. The Dos' and Don'ts apply to all of these pans so let me cover them real quick like. Don't ever soak a cast iron pan and don't let it drip dry. After using, rinse with warm water and wipe it down. It's ok to use a little dish soap but not necessarily needed due to the way you'll dry it. When you're done wiping it down simply put it back on the stove and heat it up until the water residue dissipates. It takes less than a minute! I used this skillet for everything from grilled cheese sandwiches to sautéing fresh vegetables. It's a great breakfast pan for making spicy potatoes and heating up tortilla's. Price $170.00
The #11 Deep Skillet is a great pan for both stove top and oven use. The deep walls allow you to shallow fry with oil, make sausage & gravy breakfasts and you can even make cornbread in the oven with it and it comes out perfect. It's great for braising roasts and browning ground beef also. It too is a very versatile pan that comes fitted with a glass lid. Price $220.00
The 5.5 Qt. Dutch Oven combines the best of enameled cast iron heat performance with a surface finish that will never crack or chip. This oven holds heat like nothing you've ever used before. You can literally pull a roasted chicken out of it, set it on the stove top and an hour later the chicken is still at an edible temperature. It also comes in a 7.5 Qt. for those of you who have larger families. Price 5.5 Qt. $300 – 7.5 Qt. $375.00
The 17″ Carbon Steel Party Pan is no doubt the crème de la crème of SMITHEY'S entire collection! This pan can handle anything you can throw at it and cook anywhere you need it to! Oven, Stoves, a grill or a fire pit this pan is game to get the job done. I used it for Ribeye, shrimp and veggies over my pit and the food was fantastic! It's an eye catcher to boot with its handmade hammered wall finish, you can't help but ask questions about it. It is a gorgeous piece of cookware. Probably the nicest single piece of cookware I've ever used! Price: $400.00
The SMITHEY product line is not something you should take lightly for this cookware is heirloom quality cookware and should be passed down for generations to come! If you choose to invest in their products, you've done so, wisely.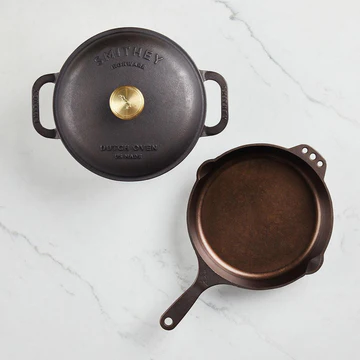 Nominated for Editors Choice "Best Cookware 2023"